Greener Camping Club (GCC) Membership

As part of the GCC (see here) every pitch must include a current GCC member. If you are not already a member when booking DFC registers you as part of the booking process. It will cost you £12 for the year & be useable at any GCC site around the country (there are 109+ campsites in the club – GCC is  growing fast).
If you first book on 1st September or later, your membership will last until the end of the following year.
It's a great way to get choice & full value for money for regular campers looking for green sites on the edge of nature (the "Wild"), across England & Wales.
Booking Fees – Camping and Campervans
We are looking forward to welcoming guests to our lovely campsite for our 4th season opening in April 2024. Our prices remain the same as last year and stays the same throughout the season.
The cost per person per night for the 2024 remains at: £12 per Adult (16+); £5 per child (15<> 5); and Infants (4 & under) go free. Dogs are not allowed.
Here are some example family prices for 2 adults and 2 children for all days of the week (not including £12 annual GCC membership):
2 night stays – £  68 (£34 per family per night)

3 night stays – £ 102

4 night stays – £ 136

7 night stays – £ 238.
Remember to add £12 per stay for GCC membership if you are not already a member.
Booking Fees – Glamping in Safari Bell Tents
We will open the season in April with 2 fully-furnished 5m Safari Bell Tents. The images you see are stock images to be replaced with pictures of our own tents as soon as they are in position & united with all their furniture.
They are big & designed to comfortably accommodate 2 adults & 2 children complete with 1 king-size & 2 single beds (linen included), bedside tables & storage, with DFC's usual great campsite amenities close by,
Our fully-furnished bell tent rate is £95 per night per pitch. The cost includes 4 people. Minimum stay is 2 nights. See below for example fully-furnished costs for a party of 2 adults & 2 children (excluding £12 annual GCC membership):
2 night stay total – £ 190 (£95 per family per night)

5 night stay total – £ 475

7 night stay total – £ 665
Remember to add £12 per stay for GCC membership if you are not already a member.
Please call 07869 380 322 for more details including unfurnished glamping rates.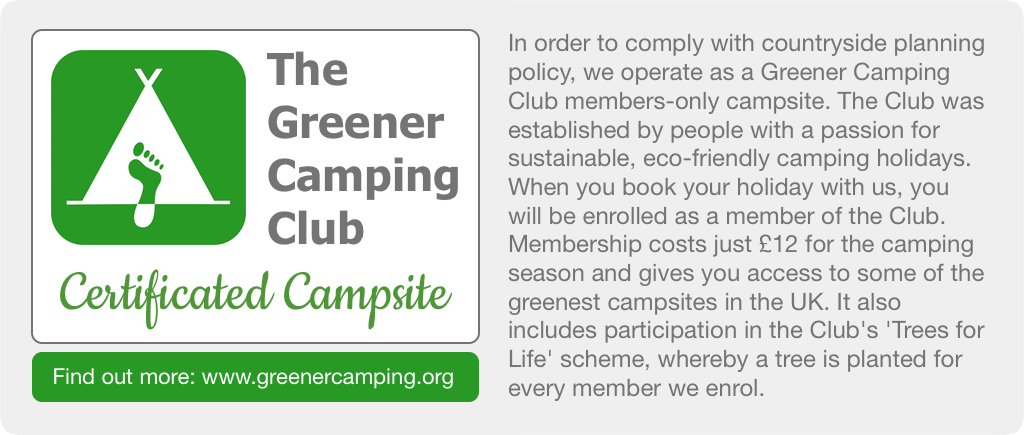 Bookings, Availability & Arrival Times
DFC arrivals should be between 3pm and 7pm. Departures should be before 11am. Let us know outside these times.
Please use our Enquiry Now form (below) to check availability. We will get straight back to you.
Conditions we'd like to emphasise
About Pitches (Our pitches are very generous & well-spaced)
– Someone staying on the pitch must be a GCC member.
– One tent (any size). If unsure talk to us first. No charge for extra pup tents
– One vehicle. No charge for surfboards, canoes or kayaks.
– Maximum of 6 people.
– No dogs are allowed.
Regarding Bookings
DFC requires a 50% deposit to confirm a booking. An unconfirmed booking will be kept open for 3 days and then automatically released. The balance of your booking fee will become payable six weeks prior to the start of your holiday.
If a booking is made less than six weeks prior to your holiday the full fee will be payable.
Please see our cancellation rules in our terms and conditions available below.
General Behaviour
– No loud music at any time.
– Its quiet time after 10pm.
– Respect your neighbours.
– Respect nature and the countryside.
For our full terms and conditions see the link at the bottom of the page.
Dipple Farm Camping Availability - Enquire Now
Find Us On W3W
Reception:      ///zaps.campfires.bend
Top Field:       ///class.riverbank.direct
Bottom Field: ///splendid.beep.magma
Meadows:      ///havens.emerald.bookings